We all agree that cloud collaboration is an exciting development that does wonders for productivity, but when working on a shared spreadsheet, don't we occasionally miss the days when we could press Save As as we used to do with Excel? We do sometimes want the security of keeping a copy of the shared document in our own work folder.
For exampl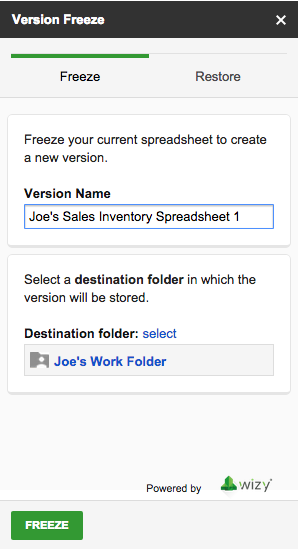 e, Joe was asked by his boss Tom to fill out column B in the inventory spreadsheet of their sales department. Joe, being a meticulous kind of guy, does just that, but wants to keep his own copy of the spreadsheet when he is done. Like we said, Joe is meticulous.
He can, of course, go to File, make a copy, rename the copy, then drag the copy from My Drive to the folder he wants to store it in. But meticulous Joe is also a busy guy. He has sales to make, a quota to meet.
This is where Version Freeze comes in. It's a Google Sheet add-on that we at wizy.io just rolled out on the Add-On Marketplace. It brings the Save As function back, and does it fast.
As soon as Joe is done with his inventory, he can make a copy of the spreadsheet – named exactly as he wants it named – right in the Drive folder he wants it to go. Joe's Work Folder, in this case (see image on the left).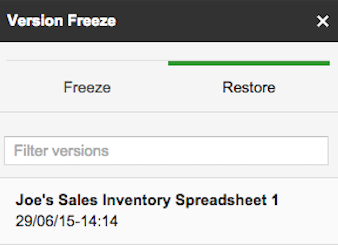 Later on, if for example Tom wants the inventory reviewed, Joe doesn't have to lose time searching in his Drive to find the saved sheet. He goes to the shared spreadsheet, then turns again to Version Freeze to restore the spreadsheet he had saved in Joe's Work Folder.
A simple solution to help you work smarter and faster, right? That's what wizy.io is all about.