Just Juice is a line of all-natural health drinks. Sales spike whenever they release their limited-edition new flavors, which marketing girl Philippa promotes partly by sending out sample bottles to influential people – store owners, athletes, celebrities and health writers – and then waiting for word-of-mouth to take effect.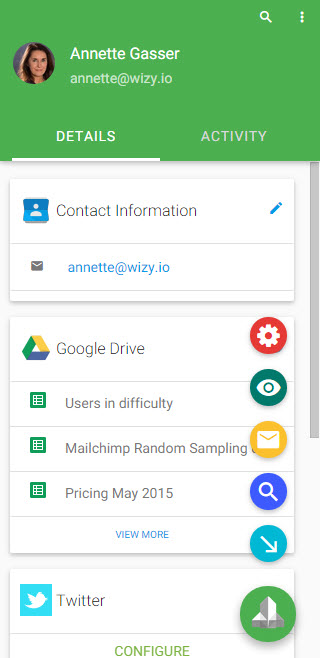 Their Who's Who list has around 150 addresses on it. Not very big, but substantial enough that it doesn't make sense to send out emails one by one. With Just Juice's business steadily growing, Philippa is a very busy girl. She needs to send out her emails to the list, telling them that they have packages on the way, quickly and easily. She doesn't have the time to learn new software; even Mailchimp's dashboard is too much for her.
Philippa will find her solution in Power Contacts, a Chrome extension that shows up as a sidebar in your Gmail inbox (see image at left). It does a great many things, like allowing you to manage your Google Contacts and giving you access to the social media activities of your contacts, but Philippa will appreciate its email functionalities.
With Power Contacts, she can send out the emails to her VIPS in the 4 minutes she has before the art director calls her to work on Just Juice's holiday packaging. And she  can do it without leaving that familiar place, her Gmail inbox.
Time starts now…
Minute 1: Philippa choose to send email to the group Just Juice Friends from her Power Contacts home page.
Minute 2: When the email message box pops up, she chooses the saved template she had created beforehand.
Minute 3: Philippa clicks on Track so that she'll know when her VIPs open her emails.
Minute 4: She clicks on Send Later and schedules her email to be sent on the weekend, when she knows most of her clients will be opening their inboxes on their downtime.
She's done!
You, too, can start working better with Power Contacts by clicking here to install the add-on.
Have some questions? Schedule a free demo here.