Your business is running better with Google Apps for Work. Your team is more collaborative, more nimble. But of course you want to always be ahead of the pack, so you continue to look for ways to maximize your technologies.
You've probably already considered Boomerang, the Gmail plug-in with email productivity functions. And maybe some of the people in your group are using the Google Sheets add-on Yet Another Mail Merge to send communication.
Some of these products you have already paid for, but each one is good for a only few of your needs, not all of them. You have to buy several to build a well-stocked productivity arsenal. Then you complete it with a few more free add-ons. The entire situation presents considerable problems:
• It gets expensive very quickly. For example, a pro account with Boomerang costs US$180 per user per year. That's more than thrice the price tag on a Google Apps user license. Not very cost-friendly, for something that does a good job only of helping you save time in your Inbox. Yet Another Mail Merge is at a cheaper US$200 a year for the entire domain, but it has a very narrow range of functionalities. If you want to do more than send personalized emails, you have to shop for other products.
• Because your final bill on all these different tools ranges anywhere from US$200 to US$600 per user per year, you can only afford to deploy the products to a select few members of your organization. That leaves the rest of your team without productivity tools. It just does not make sense compared to the price of Google Apps.
• With too many individual experts or small providers getting access to your data, not to mention the shadow IT being brought in by team members deprived of productivity tools, you're opening the organization up to security risks.
• Where are those small providers stocking your data? Not always inside Google Apps. More security risks.
• Multiple applications and Chrome extensions that are built differently by diverse providers can run into conflict very easily. Your organization will not get the full range of functions from these products simply because they are not compatible with each other.
Thinking about all of these, we came up with a vision:
We wanted all the Google Apps users in an organization
to be able to double their overall productivity and efficiency,
and to do it using just one provider with a set of universal tools.
From that vision we founded wizy.io, bringing together one of the most experienced team of Google Apps experts in the world.
Our founding members have a long history with Google Apps. Our CEO Laurent Gasser brought to Google 70% of Google Apps' early adopters. He was founder of Revevol, the largest Google Apps reseller in the EMEA. His co-founders at wizy.io are Mohamed Bahri and Jérémy Rochot, both also from Revevol, and Gino Tria, winner of the Google Apps Developer Challenge 2012 for South East Asia and Laurent's colleague at Collabspot, a startup B2B SaaS.
Their combined knowhow has gone into building a suite of Google Apps-based solutions for four essential workplace tasks: approval workflows, mail merge, email productivity, and data collection and consolidation. Think of it as a layer of ready-to-use business-grade applications on top of Google services, built on the Google platform.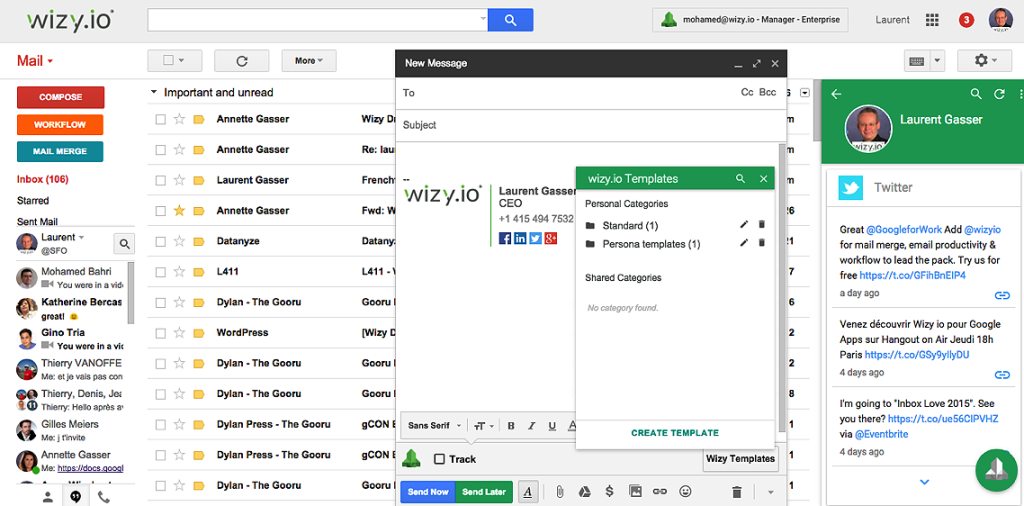 wizy.io is in your Gmail
The technology involves Google Sheets add-ons and Chrome extensions. We have created the tools you need to get a 100% increase in your organization's output in Google Apps. We made it so that you can manage and launch everything from inside one super app, built and accessible in Google Apps.
This super app eliminates the problems listed earlier:
• The price for one user to be able to use all our solutions – US$4 per month – is about equal to what you would pay for one Google Apps license. To make the deal sweeter, you can use both paying and freemium plans in your organization at the same time. You pay for the power users, while those who don't need the full features can stay on the freemium plan. You can affordably deploy wizy.io to your entire organization. No investment is necessary to test wizy.io adoption, and you get a guaranteed ROI in 1 month.
• Now that everybody has the tools they need, you improve productivity all around, and lessen the use of unsafe IT.
• You're getting all your solutions from one supplier. This not only makes IT management easier, it also removes friction between applications. Everything will work seamlessly together.
• You do not have to worry about security risks. We're a solid company committed to protecting your information, and we leave your data safely inside Google Apps.
• An added plus is that wizy.io is easy to learn as everything is done from inside the user's Gmail and Google Drive. Minimal time and money is spent on user training.
We don't count on stopping here. We're committed to making wizy.io a richer work environment with an even bigger range of functions in the coming 12 months.

Or discover wizy.io applications in our website.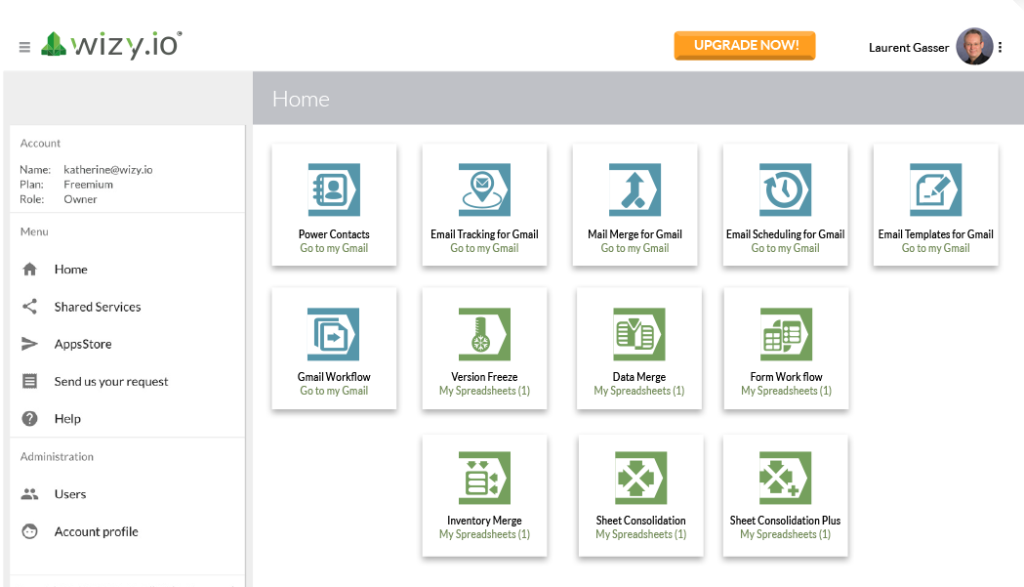 The wizy.io super app