Working in PR, Clare puts prime importance in managing her network of contacts. In her field, knowing the right people and being able to reach them easily are key.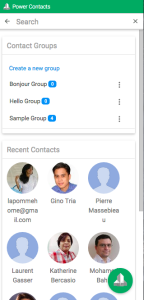 A definite point of improvement is her Google Contacts list. She never goes in there, so it is a hodgepodge of addresses and phone numbers that she does not put in order.
She can get so much more out of her list if she used Wizy.io, a Chrome extension that will let Clare organize her Google Contacts without leaving Gmail.
It will transform her Gmail into a contact management tool. Things she can do right in her inbox with Wizy.io:
1. Edit contact information, so her addresses and phone numbers are always up-to-date. She can also add important notes.
2. Merge duplicate contact listings, so she cleans out unnecessary details.
3. Create or delete Groups, for example, Clients, Press People, Bloggers.
4. Organize members of her contacts list into the groups she has made.
5. Send multiple emails to her Groups, so she's more efficient.
Register to get early access to our beta!
Get an invite
---
Also published on Medium.