This is the second of 2 articles on how a former Etsy seller uses the Wizy.io Gmail app to manage her communication. The first part can be found here.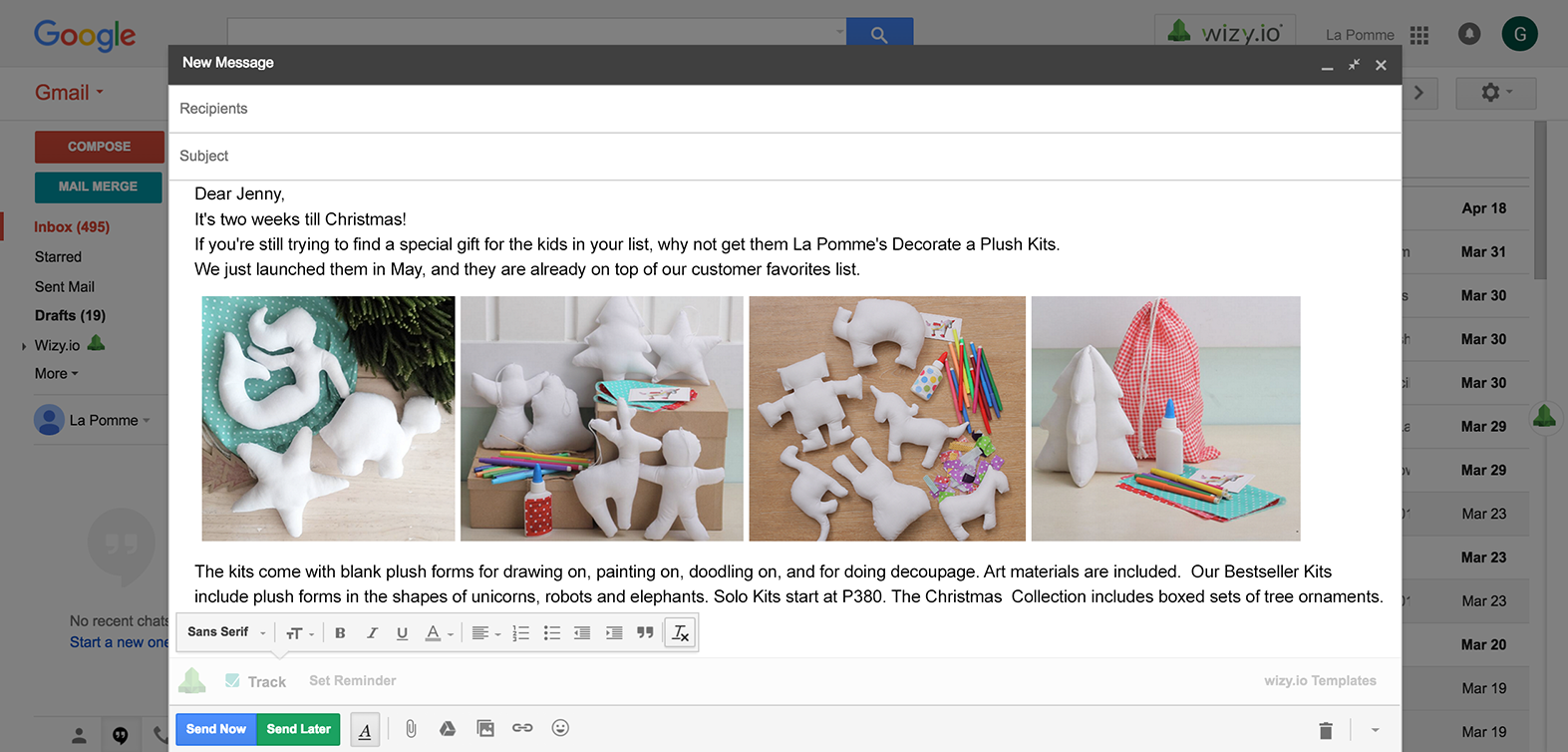 I use the Gmail app Wizy.io not only to manage my daily emails, but also to send sales campaigns. Last holiday season, for example, I used the app's mail merge function to send personalized bulk emails which increased my monthly sales by 20 percent.
By personalized bulk emails, I mean that I sent out 200 emails, with each email containing details unique to the client.
To begin, I wrote a simple email that consisted mainly of text reminding my clients of my products, plus one horizontal image. I personalized the first name in my email salutation.
I have a newsletter sent through Mailchimp to my mailing list subscribers. I downloaded the list of subscribers that showed the most engagement with my newsletters. I then uploaded this list as a CSV file into my Wizy.io app.
Maybe you're asking, why not send those sales emails directly from Mailchimp? I find that emails sent from my Gmail account are more effective. The messages are opened more frequently, and I also get higher response rates.
Result: Because of the campaign, my holiday sales jumped up 20 percent.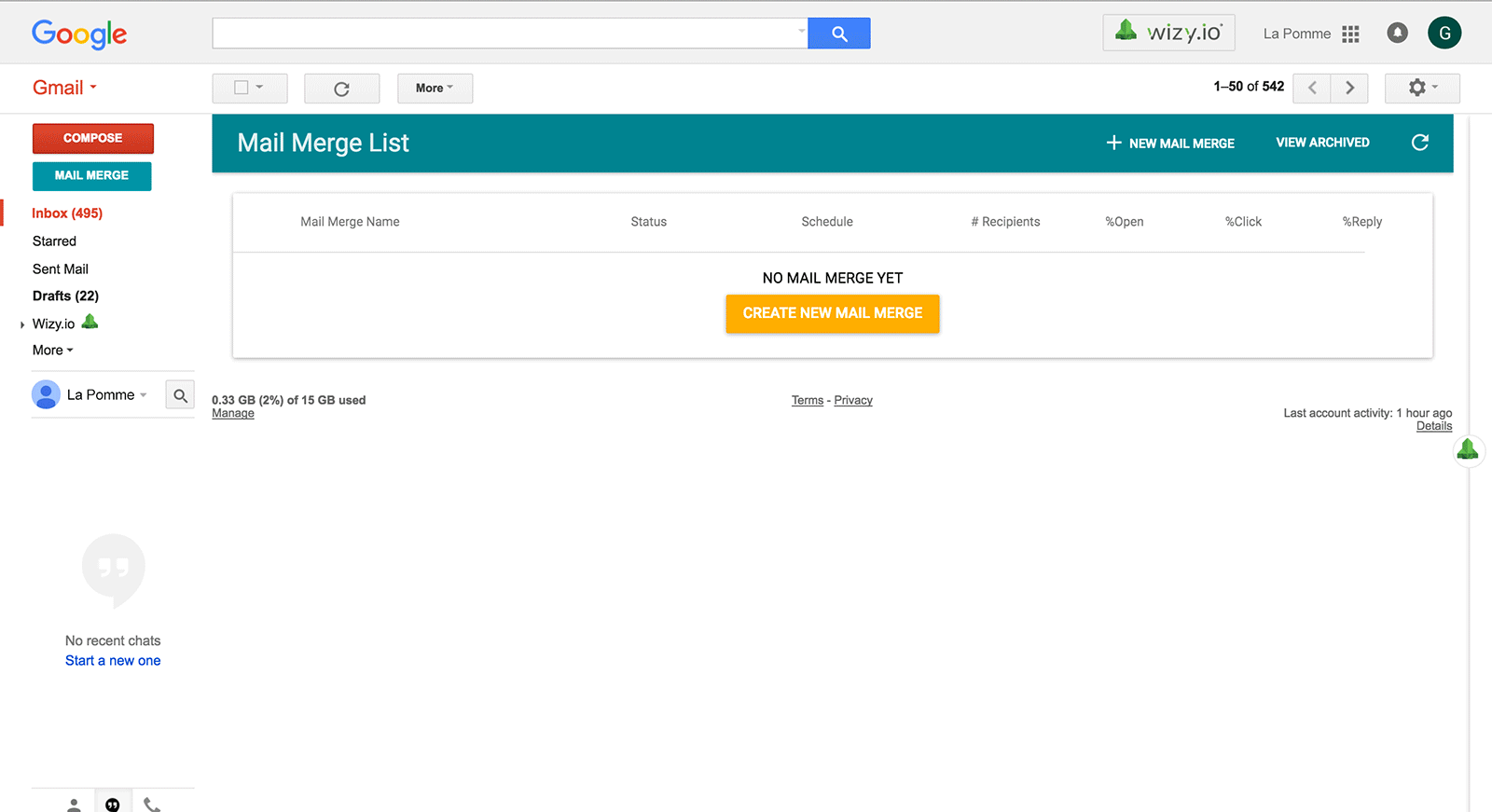 Lately, I've been devoting time to using the app's sidebar to organize the people I exchange emails with. The sidebar makes it easy to update the information that Google Contacts keeps on each one, and also to organize them into groups.
I have a group called Prospects now. These are people who have asked for information about my products, but who haven't bought anything yet. I'm preparing a campaign to turn them into customers.
When I am ready, it will be easy for me to send them personalized emails. The app lets you use the Groups in your Google Contacts to send your bulk email campaigns.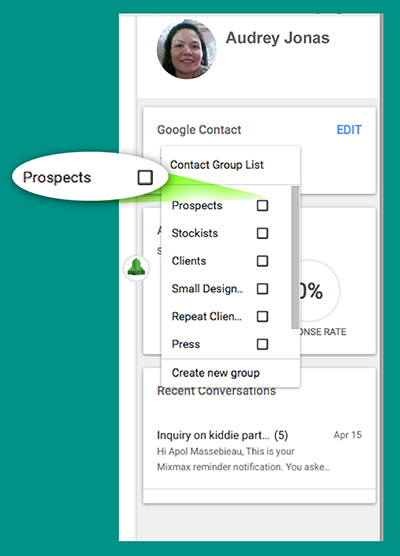 If you'd like to increase your sales, why not try the app? It's absolutely free.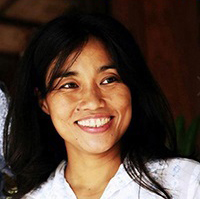 Wizy.io's customer success director Apol Massebieau has been a newspaper journalist, magazine editor, TV show host/producer, essay and fiction writer, and toy designer. She was an early adopter of Etsy and continues being fascinated by how small businesses thrive online.
---
Also published on Medium.