Slack took out a full-page advertisement in The New York Times to welcome Microsoft Teams into the business chat arena. Great marketing move. Slack has certainly gotten a lot of attention out of it (including this!).
But at least one observer, Christopher Mims from The Wall Street Journal, saw the ad as "oddly defensive and somewhat cringe-worthy." If that were true, we think Slack should get over it.
As The Wall Street Journal article pointed out, most businesses are now looking at chat applications to enhance productivity and collaboration. The market is big. It can accommodate many players.
The revolution that Slack talked about in its advertisement is actually a movement that began with consumers. Four billion people worldwide now use all different kinds of chat applications. Messaging apps have taken over social networks as the tool consumers use to communicate online.
The business world is following this global trend. There are 2 billion people presently working in companies  that use IT. Half are connected via email and other office applications, while the other half are deskless workers using voice and paper. With the ubiquity of smartphones, both these 2 groups are potential users of business chat apps.
We repeat: This adds up to 2 billion potential users. That's a big enough pie for a whole lot of players.
Phil Wainewright said in an article in Diginomica that Microsoft Teams will be targeted primarily to the 86 million active monthly business users of  Microsoft Office. It's meant for the everyman using his Excel and his Outlook. Microsoft Teams casts a much wider net than Slack, which has 4 million daily active users, and seems mainly popular with startups in the California area.
Add their numbers and you'll see that there is still plenty of room for growth. And not just for Microsoft Teams and Slack. Workplace by Facebook will most certainly give the two some brisk competition. Carrie Basham Young in Venture Beat says that one of its greatest assets is the fact that it is "sexy." Workplace by Facebook does not feel like an enterprise app. Users will actually enjoy using it, and in this way improve business results.
Hipchat is another important product. Its creators Atlassian invented chat by topic 10 years ago, and is leading the way again with its VoiceMyBot integration with Amazon Echo. Slack and Microsoft Teams lets you converse with chatbots, but Hipchat takes it a level up. Instead of just typing their questions, users can actually talk to their bot in Hipchat, using Alexa, Echo's voice interface.
Wainewright also mentions the products Salesforce Chatter, SAP Jam, Dropbox, Box, and Asana. He adds, "there there are literally hundreds of lesser-known players, each with their own fanbase."
A newcomer is WizyRoom, the business chat app we just launched, that is meant to facilitate business operations. It is for companies looking to connect their employees to enterprise data streams, workflows and business processes. If, for example, you need salespeople connecting to your ERP, WizyRoom will do that with chatbots plugged into your enterprise IT.
Basham Young in her article gives good tips to all those businesses now shopping for a chat-based collaboration app. "Companies must decide the goals and intended outcomes they want." There is certainly no lack of options to choose from. A few more will probably come in the near future. We wonder what kind of welcome Slack will be giving them?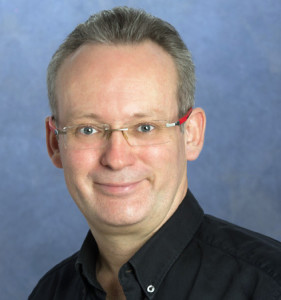 From 2006 to 2012, Wizy.io CEO Laurent Gasser headed Revevol, a consultancy in Paris that he co-founded and built to become one of the most important Google Apps resellers in the world. He moved on to head the startup Collabspot, a Gmail extensions. In 2015, he founded Wizy.io from teams from the two companies.