Robert Ransley is the founder of The Anglo House Academy, in Extremadura, Spain. An English-language learning center that employs modern education methods such as Project Based Learning and Flip It, the academy has a broad client base, ranging from schoolchildren interested in a second language to professionals relocating to the UK and needing to improve their English.
Business is thriving. "I've lived in this area for almost 20 years so I'm well-known," says Robert. "Once word got out that I was opening an academy, word of mouth took over."
Organizational efficiency is important for any entrepreneur, and Robert knew that one area that needed improvement was how The Anglo House issued receipts. In the beginning, they would do it the old-fashioned way. "I'd write them out by hand," he says.
He started keeping their clients' data in Google Sheets and, looking for a productivity tool, he went into the Add-ons marketplace, where he discovered G Merge from wizy.io. The add-on has two parts, Document Merge and Mail Merge.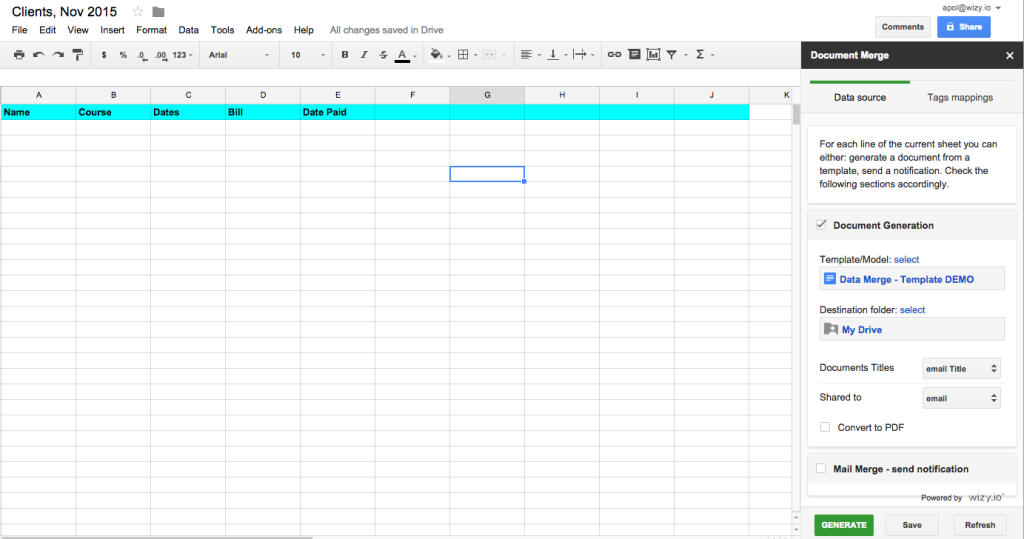 Document Merge takes data entered into a spreadsheet, enters it into a document or spreadsheet template, and from these it automatically creates a document or a PDF file. This is how The Anglo House issues their receipts now. Robert uses the add-on regularly. "Especially at the beginning of the month," he adds.
He says that he has not seen the need to try other solutions since discovering Data Merge. "This one is quite user-friendly and does everything I need it to do."
"I keep my clients by delivering quality," says the language coach. With Data Merge making sure that administrative tasks are handled better, Robert can now devote more of his energies to delivering the academy's core service of providing English education to non-native speakers. "I go a lot faster with Data Merge," he says. "It helps me save a lot of time."
You can try G Merge by clicking here.