From the 100 to 200 business letters he sends out to prospects weekly, Enrico Magnani of Canada's Magnum Capital Partners should expect an average of just one or two​ meaningful exchanges. That's what studies done on search funds say. Fortunately, Enrico discovered G Merge early on, and he is getting better response rates. He says, "We feel that your tool is helping out a lot."
Enrico and Patricia Riopel, his wife and business partner, are in the second phase of the search fund process. Enrico explains, "It is entrepreneurship through acquisition. We are two entrepreneurs looking to buy a business that we will operate and grow." Having successfully raised capital, they have been looking for this enterprise since September of 2015. This is said to be the hardest part of the search. "It is difficult to find a person with a business of the right type, of the right size, and who wants to sell," Says Enrico,
They regularly go through the painstaking steps of putting together a spreadsheet with a list of businesses, contact details for each one, as well as relevant information unique to the business and its owner. From this is sent their 100 to 200 weekly letters.

Sample spreadsheet
That is a lot of work, and much of it can go unnoticed. "There are lots of statistics on what we do," says Enrico, "and they say that you will have a conversation with a business owner who wants to sell and has a business that fits the criteria with only ​two percent of all the people that you solicit."
To make his life easier, Enrico uses G Merge to get the details listed in the spreadsheet linked to a letter template.

Sample template
The add-on then lets him create letters unique to each business owner in just a few minutes. The email is sent directly through the application, and he even gets tracking.
Because the letters are personalized and make it clear that the communication is coming from two real people, not a business machine, Enrico says, "We see that we have a higher response rate than average. We have gotten feedback saying, 'I really like your letter and your approach.'"
We created G Merge so that our users can stay relevant in their communication while saving a huge amount of time.
Available in the G Suite Marketplace, you can start using it now. Enjoy a free 50 document merges a day or get the unlimited plan for only $4/month.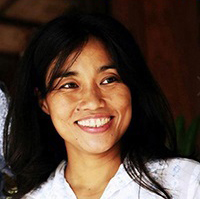 Wizy.io's customer success director Apol Massebieau has been a newspaper journalist, magazine editor, TV show host/producer, essay and fiction writer, and toy designer. She was an early adopter of Etsy and continues being fascinated by how small businesses thrive online.